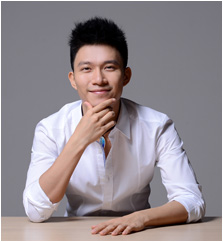 Ronald, majoring in painting, graduated with a Bachelor of Arts degree from The Hong Kong Art School, The Royal Melbourne Institute of Technology. He has a wealth of 17 years of experience in A Cappella singing, visual art design as well as physical theatre training. He has been the resident artist for Yat Po Singers, a local A Cappella choral theatre company, from 2012 to 2017. He is now a freelance artist, teaching at Hong Kong A Cappella Academy.
His local and overseas performance experience include Rock Hard (Premiere) at The Hong Kong New Vision Arts Festival (2008), Rock Hard at the Shanghai World Expo 2010 Opening Ceremony, Hose of Dancing Water by Unlock Dancing Plaza (2010), Choreographer at The International A Cappella Extravaganza (2010-14, 2018-19), Zheng Walls Have Ears at the Macao Arts Festival, The Swire Properties' Project After 6 Exhalelahni (2015), Vocal Asia International A Cappella Music Festival Made in Hong Kong Exhalelahni (2017), Ocean Park's Hong Kong Halloween A Cappella performance Sonic Kung Fu Attack (2017), Choreographer and Performer at Hong Kong Arts Festival Our Music Collection (2018), as well as Choreographer and Solo Dancer at Max Chan Piano Recital Journey (2018), Singing Coach and Performer at International Arts Carnival Luck-Quacka (2021), Assistant Director and Performer at Hong Kong Sinfonietta x Yat Po Singers x Mr. Wing Theatre Company Pica Pica Choose (2021), Movement at Hong Kong Chinese Orchestra Ji (2022), Installation Design and Performer at Max Chan Piano Recital First Intention (《初心》) (2022), Assistant Vocal Coach at The Hong Kong 3 Arts Musical Institute Next to Normal (2022).

Musical theatre performances include The Hong Kong 3 Arts Musical Institute's Once on this Island (2008), Pajama Game (2011), Actors' Family's original play The Woman in Kenzo (2013), Edward Lam Dance Theatre's Art School Musical (2014-16), The Hong Kong 3 Arts Musical Institute's Smokey Joe's Cafe (2019).
Photo credit @ Jimmy Luk