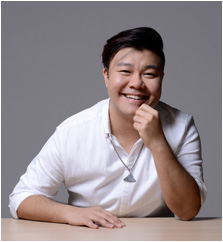 Sam Lau is an artist of Yat Po Singers and the project director (artistic) of Jockey Club YatPo "Happy A-ge-cappella". He is currently undertaking a Master Degree of Fine Arts in Drama in the Hong Kong Academy for Performing Arts, major in playwriting. His Save The Next Song For Me is nominated as the Best Originated Music and Lyrics at The 27th Hong Kong Drama Awards.
Sam's recent performances included: Matteo Ricci The Musical (Intercultural Dialogue, 2019 & 2020), Walking Bach to School (Singfest, 2019), Love Death and Everything In Between (Yat Po Singers, 2019), Rockhard-rerun (Yat Po Singers, 2017), Fly Bao to the Moon (Boom Theatre, 2017), & Art School Musical (Edward Lam Dance Theatre, 2016 Re-run, 2014 Premiere), etc.
Sam's recent plays included: The Art of Beguilement (Playwright Studio 8, 2019), Missing Our Echoes (HKAPA School Performance, 2019), Musical Inheritance 2018(The Macao Chinese Orchestra, 2018), & When You Feel Good (Dancing Heart Troupe, 2018), etc.
Sam is now a freelance artist, playwright and a cappella instructor.
Photo credit@ Jimmy Luk